Zane Bērziņa
Business Academy Aarhus, Dānija
Zane Berzina from Latvia tells about the Chemical and Biotechnical Science Programme, about studying at The Academy of Professional Higher Education and about living in Aarhus.
Content of the programme and teaching at the Academy During the first semester, students gain basic knowledge in Chemistry and Microbiology. The programme becomes more interesting later on, when we start learning about Chemical Technology and Biotechnology. We do a lot of practical work in laboratories which is good, because it helps to understand the theory and get practical skills which are very important.
The Teachers at the Academy are all professionals in their field of science. It is fine to ask questions during lessons, if there are things that you do not understand. Teachers take time to explain things, as it is their job to make sure that you learn the things you need to. It was unusual for me that it is possible to use all available materials (except computers and mobile) during examinations, because Lecturers think that ability to find information and work with it is more important than learning everything by heart.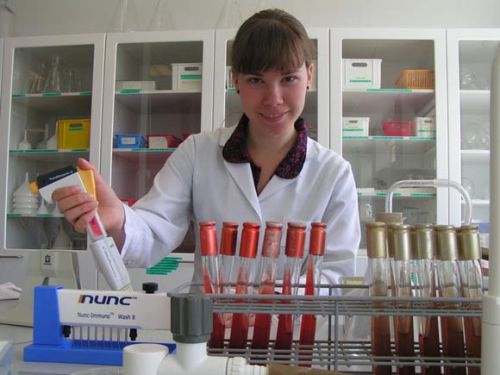 Group work and projects
Before coming to Denmark I was a bit afraid of working in groups because at school in Latvia we did not do that quite often. However, my previous school Riga State Gymnasium No.1 gave me a lot of theoretical knowledge which is use at The Academy of Professional Higher Education. From the first day we were put into groups to solve interesting tasks, and teachers gave us some tips on how to work better within a team. Working in a group is a good way to learn not only individually or from teachers, but also from the team mates as well, and there is always someone to ask if you are not quite sure how to do something. During every module a big project is produced. This could, for example, be the analysis of vine and minced meat. Every project is related to the kind of tasks you could expect to do during the upcoming traineeship. This also helps students to find out what they would prefer to work with in the future.
Moving to Denmark
To move to another country was a big challenge for me. I have become more independent during my stay away from home, because you have to everything by yourself. As there is a good transport network, it is possible to get to Aarhus by a train, plane or bus, so there are no problems coming here.
Accommodation in Aarhus
It is not too easy to find accommodation in Aarhus. Although I applied for dormitories even in the beginning of May, I only managed to get my room in the middle of September. Nobody should be scared to come to Aarhus without having permanent place to stay, because The Academy of Professional Higher Education do everything they can to help you find something temporary for up to 8 weeks during which it is most normally possible to find place to stay.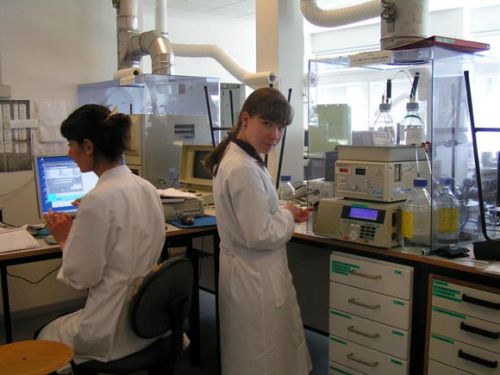 For people who want to study
Chemical and Biotechnological Science the best dormitory is Ravnsbjerg Kollegiet because it is close to the Academy and it is easy to get to the centre of Aarhus both using the train and buses.
The conditions and possibilities foreign students are offered at the Academy
For foreign students, studies in Denmark are very good, because the Academy can give both theoretical and practical skills. It is possible to work with well known methods and equipment which are used at workplaces all around the world. The working environment itself is much better in Denmark than in most other countries. In the beginning the simplest and manual methods are shown to help you understand the basics of what is going on. This also helps in laboratory work later when more advanced methods are used - it is like that in all the programmes at The Academy of Professional Higher Education.
Chemical and Biotechnological Science is a unique programme because it covers both fields of science and this is an advantage when searching for a job, because after finishing the programme it is possible to work both as a chemical analyst or as a biotechnical analyst.
Working with students from different countries In the international class there are people from many different countries and different cultures. It makes life more interesting, because it is possible to learn something from their language and culture. It is a good way to understand that not everybody thinks and does things the same way, and a good opportunity to learn to work together despite of this.
Leisure time in Aarhus
There are lots of opportunities for leisure time in Aarhus - sports (jogging and biking are very popular), visiting museums or just relaxing at one of the cafes in the old town. For students the most important place for leisure time is the Student House where there is some kind of event almost every day, like different style music concerts, Sunday salsa party, International night or movie afternoon. You can not only attend those events, but there is an opportunity to become a volunteer and organize them as well.
Getting a part-time job in Aarhus while being a full-time student It is not too hard to find job, but mostly it will be a cleaning or packing job (usually about 8 hours) if the person does not speak Danish.
Possibilities offered to students coming from abroad to learn Danish in Aarhus To find a better job it is well recommended to attend the Danish language classes. In Aarhus there is a language centre (?rhus Sprogcenter), which gives foreign people an opportunity to learn Danish. There are afternoon classes 2 times a week for students (2.5 hours on Monday/Wednesday or Tuesday/Thursday).
Three surprises when entering Denmark as a foreign student
Students from different schools live in the same dormitories Teachers are more like friends, not dictators Most shops are closed on Sunday
Traineeship after the Academy part of the programme
I would like to have a traineeship with tasks that are close to real science, for example at a University, because they offer tasks during the traineeship compared with a typical company. My dream is to get traineeship in Denmark, because I think that the apparatus and working environment is better here.
Work and further education
After graduating from the Academy I would like to spend a year or two working to gain more experience, but then I would like to continue my education (in chemistry and biochemistry) by going to University to gain a Bachelor, Masters and most probably a Ph. D degree as well. I picture myself working in Denmark or Scotland or maybe another English speaking part of the world, although I would like to move back to Latvia after some years.